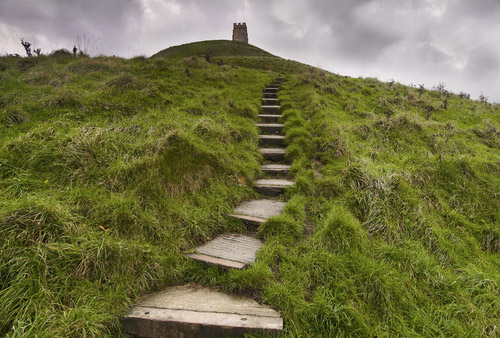 "Out of the depths have I cried unto thee, O LORD. Lord, hear my voice: let thine ears be attentive to the voice of my supplications." Ps 130:1-2
Our God is a God of hope, mercy, forgiveness, and redemption. Our hope is not in what is flippantly referred to as "the almighty dollar." Our hope is certainly not in a political party or in Washington, DC. Our hope is in Him.
Speaking of politics and the recent national election, I assume you have prayed and cast your ballot according to the way you felt the Lord directed you to vote. If the election went the way you wanted, the Lord bless you! If it did not, allow me to offer my sincere condolences to those who mourn in Zion.
Personally, I am likewise unhappy with the direction that we as a society are taking. It seems that every few years we have before us a vivid gauge of the deep divisions that exist in our world. And yet I must remind you that God is still on the throne. He establishes kingdoms, sets up and puts down rulers. And all these things are in His hands.
People have a tendency to live vicariously through their national leaders. This trait is as old as the hills. But as believers, we have only One True King, and that is Jesus Christ. Our salvation comes from Him - not from the founding fathers, the Constitution, the tax code, or the Social Security Administration. Regardless what direction the majority of our fellow citizens choose to go, our direction is already established. We will pursue righteousness and seek to please God.
I want to warn you of a trend that is in my opinion dangerous to the work of God. That is when the Church begins to view herself as a political force instead of a spiritual army. Certainly, we are to be salt and light to our generation. And yet, the deck is stacked and the clock is working against real moral change in our nation. We can't even convince a majority of our fellow citizens of the wickedness of ripping apart a living child in its mother's womb - though I will never cease to try and to cast my vote in favor of life. We will never be able, as they say to "legislate morality," but rather our laws will continue to be a reflection of the moral values of our culture. Therefore, our goal is not to pass laws but to change hearts.
As a citizen, vote your conscience and be as much of a political animal as you want. But as a child of God, your role is to show the love of God to others and lead them to a relationship with Jesus that will change their hearts. And this we will do … until Jesus takes us home.
As we journey toward the home the Lord is preparing for us, there are some things we should remember along the way. One of the things that help us keep our perspective is to remember our own imperfections and the source of our hope.
Out of the Depths
"Out of the depths have I cried unto thee, O LORD. Lord, hear my voice: let thine ears be attentive to the voice of my supplications." Ps 130:1-2
The Lord Jesus is the One we go to in the depths of our despair. I find it encouraging remembering that no matter how disappointed I am with the things I encounter, He is still the same. He is the same today as He was yesterday. His truth is never tarnished and His light never dimmed.
I cry to the Lord out of my depths and He hears me! He is always willing to hear the cry of one of His children. He does not ask what party I am affiliated with or what district I am from. He doesn't refer my mail to an aid that places a hash mark for or against the issue. He hears … me.
And speaking of depths, there are times that the hole I am in is of my own making.
"If thou, LORD, shouldest mark iniquities, O Lord, who shall stand?" Ps 130:3
Aren't you glad the Lord doesn't keep a running tally of the times He forgives our lawless ways? In fact, many times the depths of despair we are caught in is a consequence of our own sin. What if God said, "I am sorry, I have already forgiven you 37 times. I can't go for that 38th time until next year. You have to stay in your hole!" There is forgiveness instead.
"But there is forgiveness with thee, that thou mayest be feared." Ps 130:4
He is a God of forgiveness. If you have sinned, repent. He forgives. If you are in the depths of despair because of the direction our nation and world is determined to travel, repent. He is merciful. Every so often it strikes us how far we have to go to reach our world. Forgive us, oh God. And help us to reach those around us with your truth.
Wait for the Lord
"I wait for the LORD, my soul doth wait, and in his word do I hope. My soul waiteth for the Lord more than they that watch for the morning: I say, more than they that watch for the morning." Ps 130:5-6
The only true source of help is the Lord and the truth of His Word. His Word is His bond. He has never failed to match His actions to His Word. He is not as men are; He is not a liar.
"Let God be true, but every man a liar…" Rom 3:4
It is easy to get caught up in the spirit of the age. The tendency is to place hope in anything other than God. The world is waiting for an earthly messiah, someone to place their hope in. The spirit of the enemy is moving in our world as men seek someone to place the crown of leadership upon. They want someone to answer their concerns, to promise equality, to right every injustice, and to give them limitless prosperity. They want someone who will give them a nice home, pay for their education, provide them with health care, guarantee them a good job, and make those evil rich people pay for it all. Every clear thinker can see that this philosophy does not encourage or build wealth, it only makes all equally poor and promotes class envy and covetousness.
We must stand against this spirit! God says that we must wait for Him and look to Him for justice and mercy. The earthly "messiah" who is to come will only enslave the planet and damn men's souls. His spirit is already at work in our planet, preparing the world for his advent.
My hope is in Jesus Christ. I stand on the promise of His Word. I am waiting for Him to come for His Church. The world is looking for the dawning of a Utopian age, but I am waiting for the return of Jesus Christ! Anything other than this is a distraction!
"Let Israel hope in the LORD: for with the LORD there is mercy, and with him is plenteous redemption. And he shall redeem Israel from all his iniquities." Ps 130:7-8
Conclusion:
The world looks for an "anointed" leader. But the world's political anointing is not from God. As believers, we have only One True King, and that is Jesus Christ. In Him we place our hope for He is the only redeemer.
We must avoid the pressure and the trend of viewing Christ's church as a political force. We are a spiritual army, not a political party. Our task is to convert men and change hearts through the gospel of Jesus Christ.
As we journey toward the heaven, we must keep our hearts fixed on the source of our hope.
© 2008 Nevin Bass. All rights reserved. No part of this document may be reproduced for the purpose of resale without written permission.
Leave a Reply