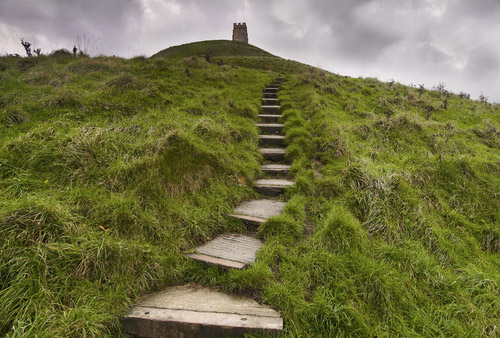 "Except the LORD build the house, they labour in vain that build it: except the LORD keep the city, the watchman waketh but in vain." Ps 127:1
The "Little Psalter" that is made up of the psalms of ascent is very organized. The psalms of ascent are the set of fifteen psalms from 120 to 134. This set of songs is divided into two groups by psalm 127, which is the middle psalm and is ascribed to Solomon. The group of ascent psalms on either side of psalm 127 is sprinkled with two psalms that are ascribed to David. This central psalm of ascent acknowledges the role of the Almighty in establishing and protecting the family. This is a worthy thing to contemplate as we prepare to enter God's presence in worship.
God is the primary source of all our blessings. This psalm should be the credo of every head of house. Every mom and dad should have psalm 127 as their motto concerning family life. The message of Psalm 127 is particularly addressed to fathers of traditional families.
Builders and Protectors
"Except the LORD build the house, they labour in vain that build it: except the LORD keep the city, the watchman waketh but in vain." Ps 127:1
There are two functions mentioned in verse one - building and protecting. Any man who is not willing to perform both of these functions and to do so in a sacrificial way, is unworthy of the office of fatherhood. When it comes to establishing, providing, and protecting a family, good intentions are not sufficient.
I understand the point of this psalm is that God is ultimately the builder and protector, but fathers are responsible to do their part, and then to trust God. Notice the sacrificial tone of verse one. Unfortunately there are those who wish to establish a home and start a family while insisting that their own personal interests must come first. Still others are willing to work to provide and protect a family but only after they pursue their own goals and interests. Biblical manhood involves putting the needs of your wife and children before your own personal goals and dreams. Unless you are willing to accept the responsibilities of Biblical manhood, I have two words of advice for you - Don't get married and don't procreate!
This psalm takes for granted that those who build a house will labor to do so. It takes for granted that he who protects a city will watch over it. Both of these activities require sacrifice in other areas of life. If you are busy building, there are other things you will not be able to do. If you are busy watching, there are other activities that will have to be forsaken. I know these are simple concepts that are lost quickly by our have-your-cake-and-eat-it-also societal mentality, but they are nonetheless true!
My oldest son has been fascinated by motorized vehicles from an early age. I recall a certain family outing when he and his younger siblings were strapped into the back seat of our ten-year-old family sedan. When an impressive late model sports car zoomed around us, my son breathlessly asked, "Dad, why don't you buy a car like that?" I informed him that mom and dad could have purchased a car like that, but we chose instead to have children.
The loathing of self-sacrifice and disdain for postponement of  gratification is evident all around us. For example, our economy is about to go bust because our politicians insisted that banks lend to people who were not credit worthy so that they could purchase homes they could not afford. It just wasn't fair, they said, that people who were unwilling to work hard to achieve the American dream were being left behind. Also, our society teaches that people should be able to be involved in the activities of married life even if they are single. Yet when a child is conceived, sound reasoning declares that a couple has responsibility to the innocent life that has begun. It might not be a popular message, but Biblical manhood requires sacrificial love and manning-up to accept responsibility.
As a father is building and protecting, there is another who works with him; He is the Lord God Almighty. You need Him in your life. Do your duty to the best of your ability, but He is the only One who can offer true strength and safety. Men labor to build their house, but they still need the Lord, the true builder. Men watch to protect their city, but they still need the Lord, the true protector.
Why do men labor for that which they by themselves cannot provide? You need a personal relationship with God so that you can bring God into the things that are most important in your life. You may not bring God into your home and into your family if you do not first have God in your heart. Many labor very hard to provide for and to protect their family, while at the same time shutting out the true source of provision and protection. It is doubtful if the presence of God will be any stronger in your family than it is in your own personal walk. Husbands and fathers, you set the pace for your family. Know that except the Lord build the house and watch the city, you labor in vain to provide that which is beyond your ability to provide. Though it is your responsibility to build and protect your family, you must partner with the Almighty in your effort.
Trusting God
"It is vain for you to rise up early, to sit up late, to eat the bread of sorrows: for so he giveth his beloved sleep." Ps 127:2
For those fathers practicing Biblical manhood, these are words of encouragement. You are sacrificing for the family. You are providing for your family to the best of your ability. You are doing your best to protect your household from ungodly spirits and the things of the world. You are maintaining your walk with God and including Him in everything you do for your family.
So … go to bed and get a good night's sleep! Live a godly life, do everything you can for your family including making those sacrifices, and then trust God. Worry should not be part of the picture. Place it in God's hands, and have a good night's sleep.
Do you want your children to grow up wondering if God is going to come through for them? Ask God to help you, do the best you can today, and trust your tomorrows to the Lord. It is pointless and in fact a negative thing to always worry about your situation. Do what you can and trust God to do what you can't.
This psalm is for every father who ever sweated the mortgage payment, the grocery bill, and the insurance payment. Don't be extravagant, live within your means, work hard, and trust God!
The Blessing of Children
"Lo, children are an heritage of the LORD: and the fruit of the womb is his reward." Ps 127:3
The strength of a family, a nation, and a society depends on the condition of its children. For a godly family, children are a heritage of the Lord. They are a blessing beyond measure. Godly children are a reward for the godly.
The home that a child is conceived in and grows up in has a tremendous impact on what kind of person that child becomes. This is a promise for every godly couple. By making a decision to live for the Lord and honor the things of God, you are giving your children an opportunity to be nurtured in a godly home. You are giving your children every advantage that you can. Today you are strong; tomorrow they will be a source of strength to you.
"As arrows are in the hand of a mighty man; so are children of the youth." Ps 127:4
An arrow represents potential. An arrow is crafted for the purpose of flight. It is crafted to fly through the air and strike a target. Let me ask you - what is the target are you aiming your children toward? What is the goal you have set before them?
Even the most skillful major league pitcher is greatly aided by the catcher "framing the target" or placing the mitt where the ball should strike. The life you live is framing a target for your children. Very often parent's lives serve as an example children should seek to avoid. They must find a target from another. Don't allow the life you live to become a goal your children seek to avoid. Be a positive example of how to live the Christian life.
The joy of parenthood is expressed here in this psalm:
"Happy is the man that hath his quiver full of them: they shall not be ashamed, but they shall speak with the enemies in the gate." Ps 127:5
Are you are fashioning those arrows to fly straight and true? Are you framing the target well? If your quiver is full of tall and straight arrows, you have every reason to rejoice.
This psalm was written by Solomon, King David's son. David was a very godly man, a man after god's own heart, a great leader and king, but a terrible father. He was a complete failure as a husband and father. He treated his children unequally, among other things. It is impossible to treat our children exactly the same, but we can be equal with them. David's success as a king and as a worshiper of God could never erase his failure as a father. While David was building the kingdom, his family was falling apart. It is my firm belief that the greatest success you can have in life has to do with your walk with God and your family relationships. A failure in either of these areas will never be removed by success in any other area of life.
© 2008 Nevin Bass. All rights reserved. No part of this document may be reproduced for the purpose of resale without written permission.
Leave a Reply